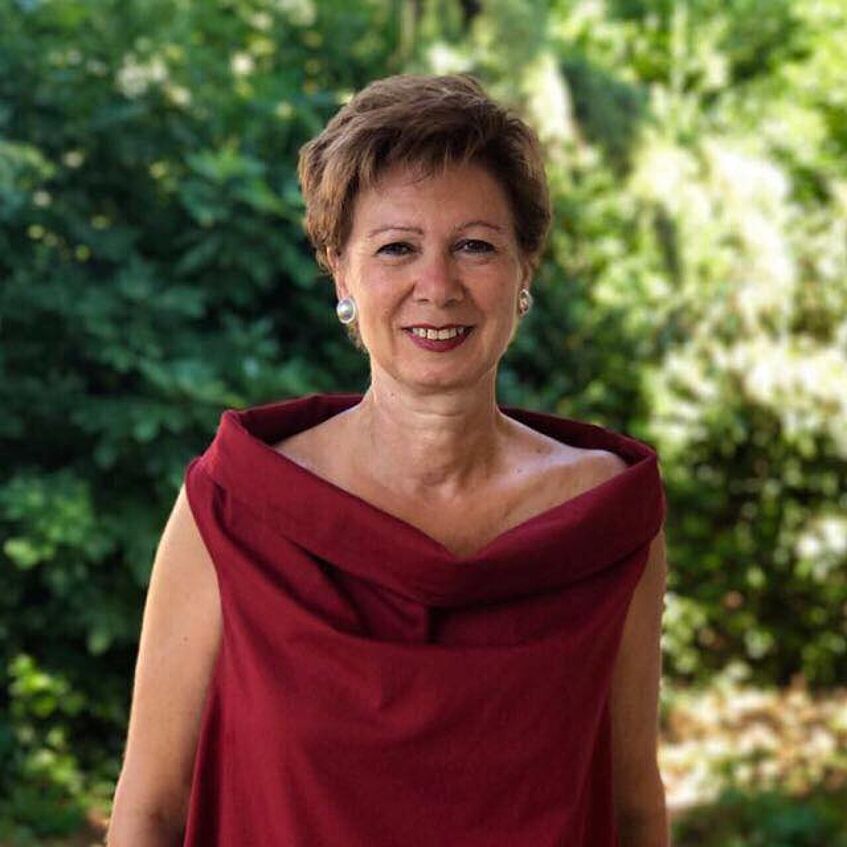 Univ.-Prof. Dr. Ayse Caglar
Univ.-Prof. Dr. Ayse Caglar
Professor of Social and Cultural Anthropology
Deputy Head of Department
CREOLE Coordinator
Department of Social and Cultural Anthropology
Universitätsstraße 7, 1010 Vienna
NIG, 4th floor
Room: A0416
T: +43-1-4277-49513
E-Mail: ayse.caglar@univie.ac.at
Office Hours
The regular office hours in winter term 2019/20 will take place on Wednesdays between 1:30 and 3:30 pm. If Prof. Caglar cannot hold her usual office hours due to other commitments, this will be announced on her office door. Please write to marie-therese.hartwig@univie.ac.at for reserving a slot, other inquiries and information.
The office hourse take place in room no. A0416.
Note to the Students
For an MA or a PhD supervision please come to the office hours after sending an outline at least a week beforehand (please consider that Prof. Caglar prefers all theses to be written in English).
For recommendation letters please hand in all necessary information and documents (addressee, statement of purpose, documents on which her recommendation should be based) at least two weeks before the deadline. Prof. Caglar does not accept pre-formulated recommendation letters, she writes every letter herself. Thank you!
Research Focus Areas
Globalization, transnationalization processes and reconfiguration of states
Migration, migrants and migrant industries
Displacement, dispossession and urban restructuring
Neoliberalization and capital restructuring
Citizenship
European cultural policies, (im)migrant cultural production and cultural industries
Nationalist discourses, popular culture and consumer culture
Short Biography
Ayşe Çağlar is a Professor at the Department of Social and Cultural Anthropology, Vienna University and a Permanent Fellow at IWM. She received her PhD at McGill University, Department of Anthropology and Habilitation in Sociology and Social Anthropology at Free University, Berlin. Before joining the University of Vienna she was a professor at and the chair of the Department of Sociology and Social Anthropology at Central European University, Budapest and she was a Minerva Fellow at the Max Planck Institute for the Study of Religious and Ethnic Diversity, Goettingen. She has held visiting professorships in several universities including Stockholm University, IHS Vienna, Central European University, Budapest, Donauuniversität Krems, and Ethnologisches Seminar Zürich. She was a Jean Monnet Fellow at the European University Institute (IUE), Florence. She has served on the Advisory Board of the Institute of Advanced Studies, Berlin, Internationales Forschungszentrum Kulturwissenschaften (IFK), Vienna, Mirekoc, Istanbul and has been a member of the Advisory Board of NCCR –On the Move (National Centres of Competence in Research, Swiss National Foundation) and Ethos, Horizon 2020. She has been a panel member of European Research Council (ERC - starting and consolidating grants) and DFG (Clusters of Excellence). She was the co-editor of the journal Sociologus, the Associate Editor of Global Networks: a Journal of Transnational Affairs and is a member of the Editorial Board of the American Ethnologist, Focaal, Anthropological Theory, New Perspectives on Turkey, International Journal of Political Sociology, and Journal of Race, Ethnicity and the City. She is a member of Academia Europaea and the Science Academy Society of Turkey. She has widely published on processes of migration, urban restructuring, transnationalization and the state, and of disposession and displacement. Her most recent comparative empirical research addressed the location of migrants in city-making processes especially in disempowered cities.
Associated
ERC Grant Holder (Feb 2020 - 25), former Ernst Mach Fellow
Uni Doc (past)

Selected Publications
2019 - Urbaner Protest: Revolte in der neoliberalen Stadt. (ed.). Wien: Passagen Verlag.
2018 - Migrants & City-Making: Dispossession, Displacement, and Urban Regeneration, co-authored with Nina Glick Schiller. Durham: Duke University Press.
2016 - "Displacement of European Citizen Roma in Berlin: Sites of contentious politics", Citizenship Studies. Vol 20. No 5. p. 647-663.
2016 - "Still "migrants" after all those years: Foundational mobilities, temporal politics and emplacement as an analytical tactic", Journal of Ethnic and Migration Studies. Vol 42. No 6. 952-969. http://www.tandfonline.com/doi/full/10.1080/1369183X.2015.1126085
2015 - "Transnational Migration" In Routledge Handbook of Immigration and Refugee Studies. Anna Triandafyllidou (ed.), p. 64-72.
2015 - Background Report in: World Migration Report 2015 Migrants and Cities: New urban partnerships to manage mobility. www.iom.int/sites/default/files/our_work/ICP/MPR/WMR-2015-Background-Paper-ACaglar.pdf
2015 - "Anthropology of Citizenship" in International Encyclopedia of the Social and Behavioral Sciences. 2nd Edition, ed. by James D. Wright. Amsterdam: Elsevier Ltd, 637-642.
2013 -"Locating Migrant Hometown Ties in Time and Space: Locality as a blind spot of migration scholarship", Historische Anthropologie 21(1): 26-42, Special Issue on Lokalitaet und transnationale Verflechtungen.
2011 - Locating Migration: Rescaling Cities and Migrants, edited by Ayse Caglar and Nina Glick Schiller. Ithaca: Cornell University Press.
2009 – "Towards a Comparative Theory of Locality in Migration Studies: Migrant Incorporation and City Scale" (co-authored with Nina Glick Schiller), In Journal of Ethnic and Migration Studies 35(2): 177-202.
2006 – "Beyond the Ethnic Lens: Locality, Globality, and Born-Again Incorporation." (Co-authored with Nina Glick Schiller), In American Ethnologist 33(4):612-633.
1998 - "McDöner: Dönerkebab und der Kampf der Deutsch-Türken um soziale Stellung", In Sociologus. Zeitschrift für empirische Ethnosoziologie und Ethnopsychologie 48(1): 17-41.
Recent Grants and Projects
2018 - 2019 Marie Curie Grant with Dr. Maria Schiller (project title: "Federal State Against Cities: Immigrant Incorporation in the Context of New Immigrant Reception", September 2018 – July 19)
2013 - Funding by WWTF for the "Marie Jahoda Summer School of Sociology 2014: Public Spaces and Inequalities in Transition – Rethinking the Urban Fabric" (with Professor Christoph Reinprecht and Professor Roland Verwiebe, Department of Sociology, University of Vienna, Austria)
2012 - 2014 "Diversity Identity" Prize by WWTF-Wiener Wissenschafts-, Forschungs- und Technologiefonds, Vienna, Austria for the project CITYSCALERS
2012 - 2014 CITYSCALERS: Migrants, Urban Reinvention, Cultural Industries. "Diversity/Identity" Grant commissioned by WWTF-Wiener Wissenschafts-, Forschungs- und Technologiefonds, Vienna, Austria
2010 - 2014 Minerva Fellowship as research group director at Max Planck Institute, MMG, Goettingen, Germany
Recent Lectures and Forums
2019 October - Keynote Speaker, "A Multiscalar Perspective on Migrants and City-Making", Inaugural Symposium: "Cities, Migration and Membership Research Collaborative", European University Institute, Florence, Italy.
2019 September - Lecture, "A Multiscalar perspective on Migrants and City-Making in Disempowered cities", Conference: "Migration, Displacement, and Urban Development", Russian International Affairs Council, Moscow, Russia.
2019 July - Lecture contribution, "Linking Micro and Macro Perspectives", Berlin Summer School in Social Sciences – Linking Theory and Empirical Research, Humboldt University, Germany.
2019 May - Public Lecture, "Migrants and City Making in Disempowered Cities", IWM, Vienna, Austria.
2019 May - Workshop contribution, "Situating the "cultural reach" of cities", Workshop: "Cultural Diplomacy/Civil Society/City Diplomacy, European University Institute, Italy.
2019 April - MA Anthropology and Development Workshop: "What migration processes reveal about global capitalist restructuring", National University Maynooth, Maynooth, Ireland.
2019 March - Panel Discussion, "The Architecture of Global Migration Politics", IWM, Vienna, Austria.
2018 December – "Migrants, cities, and the coloniality of power: Solidarities and polarizations", public lecture at Free University in Brussels, Belgium.
2018 November – "Coloniality of Power", the displaced, the dispossessed, and claims of justice", talk at the International conference "The State of the Global Protection System on Refugees and Migrants" in Calcutta , India.
2018 October - "Migrants, City-making and Polarized Politics: Mobilizations for social justice", talk at Albert Hirschman Centre on Democracy annual conference "Reimagining democracy from and at the margins", The Graduate Institute Geneva and Albert Hirschman Centre on Democracy in Geneva, Switzerland.
2018 October – "Migrants, 'coloniality of power", and temporal frameworks", keynote at the conference "Failing Identities, Schools and Migrations: Teaching in (trans)national Constellations", Universität Bremen in Bremen, Germany.
2018 October - "Transnational Migration Paradigm: Challenges, Blind Spots, and Opportunities for a Global Perspective", keynote at the Tomsk International Research Conference, II Tomsk Anthropological Forum 'Anthropology of Interdisciplinarity'. Tomsk State University in Tomsk, Russia.
2018 October – "Through the Looking Glass of Disempowered cities: Challenges and Opportunities for Rethinking Common Futures in Europe", Academia Europaea Talk. Poland Academia Europeae in Wroclaw, Poland.
2018 September – "The Spatial and Temporal Blinders of Migration Scholarship and the Labyrinths of non-synchronism", keynote at the conference "Leaving Europe. Alternative Routes of Out/Upward Mobility. KU Leuven, Belgium.
2018 August – "City-makers beyond "migrancy"", accepted talk at the 15th EASA conference "Staying, moving, settling" in Stockholm, Sweden.
2018 July – "A Multiscalar Perspective on Violence, Disposessions, and Displacements", accepted talk at the 18th IUAES World Congress, Florianópolis, Brazil.
2018 June – "In the Shadow of "Mobility": Conceptual Impediments of Migration Scholarship", invited talk at the conference "Stuck in Migration: Waiting Zones and (Internment) Camps", organized by the Institute for Advanced Study of the CEU, Budapest and the Center for Advanced Study of the LMUniversity, Munich.
2018 May – "A Multiscalar Perspective on Migrants and City-making: Solidarities for Social and Historical Justice", keynote lecture at the international conference "Transnational migration: Borders and Global Justice", organised by the Institute of Sociology of the Czech Academy of Sciences and the Faculty of Humanities, Charles University in Prague, Czech Republic.
2018 May – Roundtable discussion: Spatializing and Historicizing Uneven Development at the CASCA Conference, Cuba, 16-20 May 2018.
2018 May – "Scholarship and urban policies beyond diversity" invited talk at the 12th Asia Pacific Programme for Senior National Security Officers (APPSNO) at the S. Rajaratnam School of International Studies, Centre of Excellence for National Security (CENS)Singapore, 7-11, May 2018.
2018 March - 10. Akademie-Gespräch "Die Türkei der Künstler". Johannes Odenthal im Gespräch mit Ayşe Çağlar, CANAN, Mario Levi und Azra Tüzünoğlu, at the Akademie der Kuenste, Berlin.
2018 February - "Migrants and Disempowered Cities: Opportunities, Challenges, and Polarized Dynamics" public lecture in the series "Striking from the Margins: Religion, State and Disintegration in the Middle East" at the Center for Religious Studies at Central European University, Budapest, Hungary.
2017 December - "Migrant Business and Welcoming Narratives in Cities: Is there a way out of a conceptual swamp?" invited talk at the University of Zagreb, Croatia.
2017 December – "Violence, war and capital accumulation: Dispossessed histories and social movements for historical justice", AAA Annual conference in Washington, DC, USA.
2017 Sept - "Migrants in disempowered cities. Opportunities and challenges", United Nationas Expert Group Meeting on Sustainable Cities, Human Mobility and International Migration, Pupulation Division, Department of Economic and Social Affairs, UN, New York, USA.
2017 June - "Welcoming Cities: Inclusion of migrants and refugees in urban areas", invited talk at UN headquarters, New York, USA.
2017 May – "The social and the "cultural" in land grabbing and labor: urban restructuring and the war economy in Mardin", joint CASCA and IUAES conference, Ottawa, Canada.
2017 March – "Migrants, city making and the value creation processes in a multiscalar perspective: Space and time in migration scholarship", public lecture at the African Centre for Migration & Society and Wits City Institute, University of Witwatersrand, Johannesburg, South Africa.
2016 November - "A Multiscalar Approach to Value Creation in a Disempowered City: Failures and the Historical Conjuncture", AAA Annual conference in Minneapolis, USA.
2016 September – "The Spatial and Temporal Frameworks of Migration Scholarship: Challenges for the 21st Century", keynote speech at the First Tomsk Anthropology Forum, Tomsk, Russia.
2016 July – "The challenge of diversity", summer school talk at the Marie Jahoda Summer School of Sociology Vienna "Divercities: governing urban diversity", Vienna, Austria.
2016 May – "Emplacing Migrants in Disempowered Cities: A Multiscalar Analysis", keynote speech at the II. International Urban Studies Congress, Istanbul, Turkey.