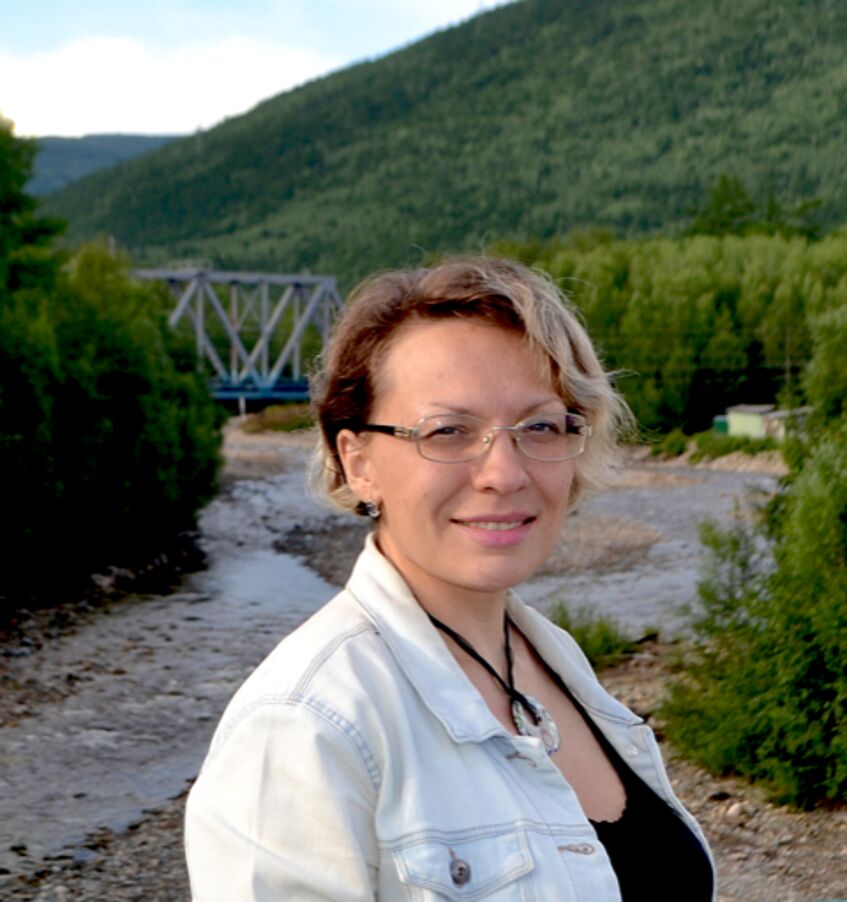 Cand. Sc. (kand. nauk) Olga Povoroznyuk
Cand. Sc. (kand. nauk) Olga Povoroznyuk
Post Doc
Research Focus Areas
Infrastructure and development



Postsocialist transformations


Indigeneity, ethnicity and identity

Migrations and mobility

Post-Soviet space, Russia, Circumpolar North
Short Biography
Olga Povoroznyuk is a PostDoc Researcher at the Department for Social and Cultural Anthropology, University of Vienna and a Senior Researcher at the Department of Northern and Siberian Studies, Institute for Ethnology and Anthropology, Russian Academy of Sciences in Moscow. She conducted long-term field research in indigenous and mixed communities in East Siberia, Nenets District, and the Russian Far East and defended her degree of kandidat nauk (Ph.D. equivalent) in Ethnology at the Institute for Ethnology and Anthropology. Povoroznyuk is an author of a book on socio-economic and cultural transformations among indigenous Evenk communities in soviet and post-soviet periods and a number of articles on land use, cultural landscapes, gender relations, mobility and migrations, ethnicity and identity politics in the Russian North. Since 2015 she works on a FWF-funded research project on entanglements of human communities with transportation infrastructures lead by Prof. P. Schweitzer. In this project, she focuses on demographic and social change, interethnic and stakeholder relations and identity building in the region of the Baikal-Amur Mainline, East Siberia.
Olga Povoroznyuk is a member of Austrian Polar Research Institute, Association of American Anthropologists, Association of Anthropologists and Ethnologists of Russia and other professional organizations and research networks. She regularly participates in international conferences and peer-review activities for social science journals published in English and in Russian. She also facilitates cooperation between the Institute for Cultural and Social Anthropology and academic partners in Russia and currently teaches (in cooperation with Prof. Schweitzer) MA courses on cultures of Siberia.
Selected Publications
2019 The Baikal-Amur Mainline: Memories and Emotions of a Socialist Construction Project. In Sibirica, Vol. 18 (2019), issue #1, pp. 22-52; doi: doi.org/10.3167/sib.2019.180103.
2019 [with Peter Schweitzer]. 2019. A right to remoteness? A missing bridge and articulations of indigeneity along an East Siberian railroad. Social Anthropology 27(2):236-252.
2019 [with Vera Kuklina and Gertrude Saxinger]. Power of Rhythms – Trains and Work along the Baikal-Amur Mainline (BAM) in Siberia. Polar Geography, vol. 42 (1); doi: www.tandfonline.com/doi/full/10.1080/1088937X.2018.1564395
2017 [with Peter Schweitzer and Sigrid Schiesser]. Beyond Wilderness: Towards an Anthropology of Infrastructure and the Built Environment in the Russian North. In Polar Anthropology, Vol. 7, No 1, pp. 58-85, http://www.tandfonline.com/doi/abs/10.1080/2154896X.2017.1334427
2016 Social Dynamics and Sustainability of BAM Communities: Migration, Competition for Resources, and Intergroup Relations. In Marlene Laruelle (ed.), New Mobilities and Social Changes in Russia's Arctic Regions. London and New York: Routledge, pp. 133-157.
2016 "Gorodskie aborigeny" BAMa: industrial'nyi bum, technosotsial'nye seti i bor'ba za resursy ["Urban aboriginals" of the BAM Region: industrial boom, technosocial networks and competition for resources]. In Etnograficheskoe Obozrenie, No1, pp. 23-41.
2015 [with Sirina A.A., V.N. Davydov V.N. and V.V. Simonova]. S.M. Shirokogoroff's book 'Sociаl Organization of the Northern Tungus' and its Russian translation: history, structure, interpretations. Asian Ethnicity, vol. 17, issue 1, pp. 30 – 46, http://www.tandfonline.com/doi/full/10.1080/14631369.2015.1086088
2014 Belonging to Land in Tura: Migrations, Reforms, and Identity Politics in Evenkiia. In Journal of Ethnology and Folkloristics, vol. 8, No 2, pp. 33-51, http://www.jef.ee/index.php/journal/article/view/159/pdf_122
2011 Evenki of Zabaikal'skii Region: social, economic, and cultural transformation in XX-XXI centuries (in Russian). Moscow: Institute of Ethnology and Anthropology, RAS, iea-ras.ru/index.php
2010 [with Habeck, J.O и V. Vaté]. Introduction: On the Definition, Theory, and Practice of Gender Shift in the North of Russia. In Anthropology of East Europe Review 2010 29(2). Theme issue (guest editors: Habeck, J.O, O. Povoroznyuk, and V. Vaté), "Gender Shift in the North of Russia", pp. 1-37, http://scholarworks.iu.edu/journals/index.php/aeer/article/view/929/1037
Current Projects
Configurations of "Remoteness" (CoRe) - Entanglements of Humans and Transportation Infrastructure in the Baykal-Amur Mainline (BAM) Region (2015-2020)
Funded by the Austrian Science Fund (FWF) [P 27625 Einzelprojekte]
Website: https://core.univie.ac.at/
This project component aims at exploring large infrastructures as an articulation of Russia's state modernization projects and identity politics in the Soviet and post-Soviet periods. Drawing on the case study of the Baikal-Amur Mainline (BAM) in East Siberia, I raise the following specific research questions. How did the BAM construction shape new identities and communities in the Soviet period? In which ways has the railroad infrastructure affected indigenous and local people and involved incoming migrants? What is the role of Soviet ideologies and memories in the current processes of identity building and the politics of emotion? Which ideological, affective and material continuities and ruptures could be identified between the socialist BAM and its present modernization program BAM-2?
While the existing publications about the railway often focus on one group or one level of analysis, this research aims at a more comprehensive study of entanglements of different groups and stakeholders with the BAM infrastructure. It will bridge two strands of discussion – on Soviet and post-Soviet ideologies and identities, on the one hand, and on anthropology of infrastructure, on the other. Data gathered with the help of participant observation and ethnographic interviews and archival works will be complemented with policy documents and local press materials and triangulated with statistical data and results of a questionnaire-based mobility survey. While the major anthropological fieldwork is conducted in select towns and villages along the BAM (see the project map), additional information is requested in libraries, archives, statistical bureaus and companies' offices in East Siberia and in Moscow.
"Informal Roads: the Impact of Undocumented Transportation Pathways on Remote Communities of Siberia"

(2019-2022)

Funded by the US National Science Foundation

Crucial role of transportation systems in fighting climate change and achieving the sustainable future was recognized by United Nations in organizing the first global conference on sustainable transport in 2016. Yet, road construction has ambiguous effects on remote communities. On one hand, such communities have a need for better transportation to reduce costs that are an obstacle for economic development in such locales. On the other hand, development of transportation infrastructure often conflicts with environmental concerns, e.g. reducing fuel emissions or soil degradation, and the calls for preservation of local lifestyles and cultures. In many remote regions in the Arctic and in Siberia, transport infrastructure consists mostly of paths and trails made by indigenous communities for their subsistence activities, as well as of temporary roads laid for resource extraction purposes. This interdisciplinary project aims to analyze the impact of informal transport networks on arctic socio-ecological systems. We hope that our case studies from East Siberia will contribute to understanding of anthropogenic environmental change caused by industrialization and tourism and, thus, facilitate sustainable development of arctic and subarctic regions.

Facebook group at https://www.facebook.com/groups/953766545014897/
"

Permafrost Thaw and the Changing Arctic Coast, Science for Socioeconomic Adaptation"

(2017-2022)

("Nunataryuk", WP9 "Mitigation and Adaptation")

Funded by EU Horizon 2020

This international interdisciplinary project aims at determining the impacts of thawing coastal and subsea permafrost on the global climate and developing targeted adaptation and mitigation strategies for the Arctic coastal population. The Work Package 9 "Adaptation and Mitigation" analyses the risks and challenges posed by permafrost thaw and climate change to the vulnerable coastal communities. Our project component covers the project focal area in Russia, including the East Siberian area with Tiksi, Bykovskiy and Cherskiy.
Our field research conducted in the city port Tiksi founded in the period of Soviet exploration of the Arctic, and in indigenous village Bykovskiy in July 2019 identified the impacts of permafrost thaw on subsistence activities. Changes affecting these different communities vary, depending on the type of permafrost and substrate in the areas as well as on the ways local residents depend on and interact with their environment. This case study helps to understand local specifics of human-environment-infrastructure interactions in order to develop culturally appropriate adaptation strategies. Given the history and the current status of Tiksi as part of the Northern Sea Route, questions concerning the relationship between permafrost thaw, transportation infrastructure and community development are particularly prominent in this region.

Websites: https://nunataryuk.org/ & https://ksa.univie.ac.at/forschung/forschungsprojekte/laufend/#c254524
Recent Talks
Ambiguous Entanglements: Infrastructure, (Im)mobility and Indigeneity along Baikal-Amur Mainline. Annual Meeting of the American Anthropological Association, Vancouver, November 23, 2019
Re-Constructing the Baikal-Amur Mainline: Imaginaries, Ideologies and Affects of the Socialist Megaproject. Annual Convention of the Association for Slavic, East European, and Eurasian Studies. November 25, 2019, San-Francisco
"Sustainable Development" and Indigenous Peoples (Case of the BAM, Siberia). Conference of the German Society for Social and Cultural Anthropology. Konstanz, Germany, September 30, 2019
Ambiguous Entanglements: Infrastructuring (Im)mobility and Indigeneity along Baikal-Amur Mainline. Workshop "Ethnographies of Megaprojects". Stockholm, September 14 2019
Postsocialist Infrastructure: Identity Building and the Politics of Emotion along the Baikal-Amur Mainline, East Siberia. Guest lecture, Historical Department, Ludwig Maximilian University, Munich, June 16, 2019
Reconstructing the BAM: Memory, Identity and Politics of Emotions (in Russian). Congress of Anthropologists and Ethnologist of Russia, Kazan', July 3, 2019
Postsocialist Infrastructure: Memories, Identities, and Politics of Emotion along the Baikal-Amur Mainline (in Russian). Guest lecture, Department of Ethnology, Moscow State University, February 25, 2019
Reconstructing the Baikal-Amur Mainline: Materiality and Affect of the Postsocialist Railroad. Annual Meeting of the American Anthropological Association, San Jose, November 18, 2018
(Re)Constructing the BAM: Affective Networks of the (Post)Socialist Infrastructure. Conference of the European Association of Social Anthropologists, Stockholm, August 15, 2018
Living Along the Baikal-Amur Mainline: Resources, Social Change and (Im)Mobility Among Indigenous (Evenki) People. International symposium "On Land, Water and Ice: Indigenous Societies in the Changing Arctic", Sapporo, Japan, July 5, 2018
Recent Panels
[with P. Schweitzer]. Transportation infrastructures in the system of communications in the North. Congress of Anthropologists and Ethnologist of Russia, Kazan', July 3, 2019 (in Russian)
[with P. Schweitzer and S. MacCallum]. Revisiting railroads: sociality, mobility and infrastructure in remote regions. Annual Meeting of the American Anthropological Association, San Jose, November 18, 2018
[with G. Saxinger and P. Schweitzer]. Human Entanglements with Infrastructures: Mobility, Sociality, and the Built Environment. Vienna Anthropology Days, September 21, 2018
[with P. Schweitzer and S. MacCallum]. Revisiting railroads: sociality, mobility and infrastructure in remote regions. Conference of the European Association of Social Anthropologists, Stockholm, August 15, 2018
[with P. Schweitzer]. The Social Life of Transportation Infrastructures in the Circumpolar North and Other Remote Areas. International Congress of Arctic Social Sciences IX, Umea, Sweden, June 9, 2017