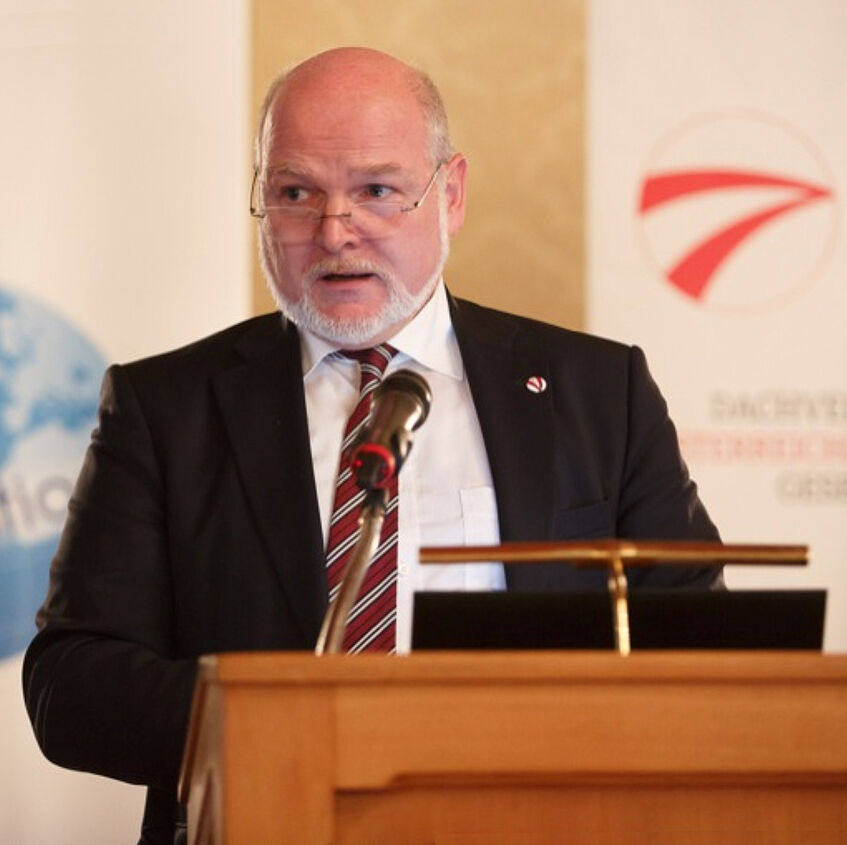 ao.Univ.-Prof. Mag. Dr.phil. Hermann Mückler
ao.Univ.-Prof. Mag. Dr.phil. Hermann Mückler
University Professor
Research Focus Areas
Ethnohistory, Historical Anthropology, History
Peace and Conflict Studies
Geopolitics, Geostrategy, Political Anthropologie
Cultural Anthropology
Colonialism, post- and neocolonialism
Material Culture
Analysis of historical images
Short Biography
Hermann Mueckler studied ethnology, cultural anthropology, political science, and communication sciences at the University of Vienna, where he also habilitated on subjects related to the Pacific Islands region. Since 1994 he has held various positions at the Institut für Völkerkunde (today Deaprtment for Social and Cultrual Anthropology), since 2001 as an university professor. He is the founder of the Austrian-South Pacific Society (OSPG). He was acting as Vicedean of the Faculty of Social Science in the years 2004-2008 and held several senior positions in domestic and foreign scientific societies, committees and editorial boards. Since 2012 he has been President of the Anthropological Society in Vienna, as well as President of the umbrella organization of all Austrian-Foreign Societies-PaN, the Austrian-Fijian Society, Vice-President/Second Chairman of the Society for Overseas History, the Institute for Comparative Research in Architecture. His scientifi oeuvre currently comprises 28 books (authored and edited) as well as well over 300 publications (articles and reviews).
Selected Publications
Die Darstellung des Baumhauses in Neuguinea im historischen Populärmedium des Kaufmanns-Sammelbildes. In: Mitteilungen der Anthropologischen Gesellschaft in Wien (MAGW), Band 146, Wien 2016, S. 221-240.
Sukarno, Gandhi and Rizal: Asian role models for self-determination and decolonization aspirations of Pacific island countries. In: Pacific Geographies, No. 46, July/August 2016, S. 17-20.
Indonesien - Islamisierungsdynamiken, Demokratisierung und die Macht der Vielfalt. In: Rupp, Jasmina (Hrsg.): Der (Alb)traum vom Kalifat. Ursachen und Wirkung von Radikalisierung im Politischen Islam. Reihe Internationale Sicherheit und Konfliktmanagement Band 9, Wien 2016: Böhlau Verlag, S. 253-265.
Die deutschen Kolonien im Pazifik. In: von Poser, Alexis/ Baumann, Bianca (Hrsg): Heikles Erbe - Koloniale Spuren bis in die Gegenwart. Dresden 2016: Sandstein Verlag, S. 43-55.
Australia - A Hegemonic Power in the Pacific Region. In: Journal of Pacific Studies, Volume 36, Issue 2, Suva 2016, USP, S. 137-159.
Der vergessene Osterinsel-Forscher Walter Knoche, wissenschaftlicher Leiter der chilenischen Rapa Nui Expedition 1911. In: Jahrbuch für Europäische Überseegeschichte, Band 15, Wiesbaden 2016: Harrassowitz-Verlag, S. 123-146.