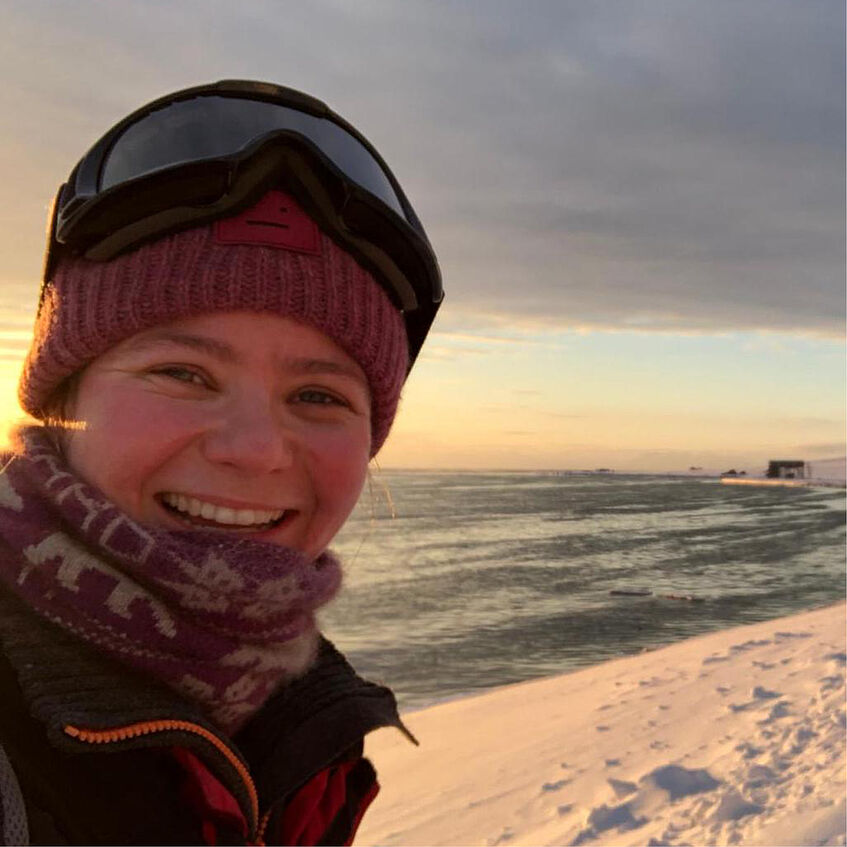 Alexandra Meyer, BA MA
Alexandra Meyer, BA MA
Project collaborator, PhD candidate
Department of Social and Cultural Anthropology
Universitätsstraße 7, 1010 Vienna
NIG, 4th floor
Room: A0404
T: +43-1-4277-49543
E-Mail: alexandra.meyer@univie.ac.at
Research Focus Areas
Anthropology of climate change
Environmental anthropology
Climate change adaptation
Arctic
Svalbard
Short Biography
I am a social anthropologist from Norway, based in Vienna. My interests lie within environmental anthropology, climate and societal change, and Svalbard and the Arctic. I am currently wrapping up my PhD thesis on how people in Longyearbyen perceive, live with, and adapt to environmental change in the context of socio-economic change, at the Department of Social and Cultural Anthropology at the University of Vienna. This research was funded by the EU project NUNATARYUK - Permafrost thaw and the changing Arctic coast, science for socioeconomic adaptation, in which I am a project collaborator. Lately I have also been working with values connected to Svalbard's cultural heritage, as a project collaborator in the project Polar Climate and Cultural Heritage (PCCH-Arctic). This year (2023) I will start fieldwork in Longyearbyen and Kirkenes, Norway in the project InfraNorth – Building Arctic Futures.
I am committed to building connections and collaborations within the growing field of social sciences on Svalbard, as well as between science and society. I am a board member of the Svalbard Social Science Initiative (SSSI) and a representative of Austria in the Social & Human Working Group of the International Arctic Science Committee.


Selected Publications
Meyer, Alexandra (2022). Physical and feasible: Climate change adaptation in Longyearbyen, Svalbard. Polar Record 58: e29.

https://doi.org/10.1017/S0032247422000079

Sokolíčková, Zdenka, Meyer, Alexandra & Andrian Vlakhov (2022).

Changing Svalbard: Tracing interrelated socio-economic and environmental change in remote Arctic settlements.

Polar Record,

58

: e23. https://doi.org/10.1017/S0032247422000213

Ramage, Justine, Leneisja Jungsberg, Alexandra Meyer & Susanna Gartler (2022).

'No longer solid': perceived impacts of permafrost thaw in three Arctic communities. Polar Geography, 45: 3. https://doi.org/10.1080/1088937X.2022.2105973

Meyer, Alexandra (2022). Urban Development in Longyearbyen, Svalbard. Dealing with Local Challenges in a Town that Serves as a Tool for Svalbard Policies. In: Stefan Bauer, Doris Friedrich & Markus Hirnsperger (eds.), More than 'Nature': Research on Infrastructure and Settlements in the North. Wien: New Academic Press.

Brode-Roger, Dina, Judan Jasmine Zhang, Alexandra Meyer & Zdenka Sokolíčková (2022). Caught in between and in transit: forced and encouraged (im)mobilities during the Covid-19 pandemic in Longyearbyen, Svalbard. Geografiska Annaler: Series B, Human Geography. doi:

10.1080/04353684.2022.2097937

Larsen, Joan Nymand et al.

(2021). Thawing Permafrost in Arctic Coastal Communities: A Framework for Studying Risks from Climate Change. Sustainability 13(5). https://doi.org/10.3390/su13052651

Zhang, Judan Jasmine, Zdenka Sokolíčková, Alexandra Meyer, Cecilie Vindal Ødegaard, Laura Ferguson, Lisbeth Iversen (2021).

"(Un)inhabiting Svalbard: Stories of makings from a transient place in the High Arctic ", TRANSLOCAL. Culturas Contemporâneas Locais e Urbanas, n.º5 - Espaços (Des)Habitados |
(Un)Inhabited Spaces, Funchal: UMa-CIERL/CMF/IA. https://translocal.funchal.pt/wp-content/uploads/2021/11/UnInhabiting-Svalbard_TRANSLOCAL5.pdf

Meyer, Alexandra (2020). Das Anthropozän: Perspektiven aus der Kultur- und Sozialanthropologie und ein Fallbeispiel aus der hohen Arktis (The Anthropocene: Perspectives from Social and Cultural Anthropology and an example from the High Arctic). In: Carmen Sippl et al. (eds.), Das Anthropozän lernen und lehren – Theoretische Reflexionen und praktische Beispiele (Teaching and learning the Anthropocene – Theoretical reflections and practical examples). Innsbruck: Studienverlag. Pp. 97-105.

Saville, Sam et al. (2020). Social Sciences and Beyond in the Arctic. Eco: Environment Coastal & Offshore. Pp. 126-129.

http://digital.ecomagazine.com/publication/frame.php?i=674747&p=126&pn=&ver=html5

Bartsch, Annett & Alexandra Meyer (2017). Klimawandel in der Arktis: Perspektiven aus den Natur- und Sozialwissenschaften (Climate change in the Arctic: Perspectives from the natural and social sciences).

In: Gertrude Saxinger, Peter Schweitzer & Stefan Donecker (eds.), Arktis und Subarktis: Geschichte, Kultur und Gesellschaft (Arctic and Sub-Arctic: History, Culture and Society).

Vienna: New Academic Press.

Pp. 166-182.

Meyer, Alexandra. 2016. "Wir sind eine eingeschworene Gemeinschaft": Gemeinschaftsbildung und Zusammenhalt unter Männern in einer Salzburger Krampuspass ("We are a sworn community": Community building and male bonding in a Salzburgian Krampuspass). In: Matthäus Rest & Gertraud Seiser (eds.), Wild und Schön: Vom Krampuslaufen in Salzburger Land (Wild and beautiful: On the "Krampuslaufen" in Salzburg). Wien: LIT Verlag. Pp. 221-236.